Sam Allardyce had hoped history would repeat itself but, so far at least, it is refusing to comply. In the spring of 2016 the interim Leeds manager was in charge at Sunderland and, against all odds, helped them avoid relegation courtesy partly of an inspired party trick. After signing Jan Kirchhoff from Bayern Munich, Allardyce immediately converted the Germany Under-21 centre-half into a central midfield anchor.
Kirchhoff not only excelled but played a key role in Sunderland's survival, so it did not come as a huge surprise when, in the second game of his four-match contract at Leeds, Allardyce relocated Robin Koch from defence to midfield. Given Koch possesses eight Germany caps it initially seemed a case of deja vu but, unfortunately for Leeds, the centre-half seems only an ersatz midfield enforcer.
Not that it is Koch's fault Leeds have collected one point from Allardyce's first three games and have one foot in the Championship. And neither is Weston McKennie to blame for a calamitous situation exacerbated by a longstanding fixation with extreme pressing tactics and some questionable recruitment.
McKennie, a loanee Juventus midfielder, seems an admirably quick learner when it comes to perfecting the long throws that have proved such a recurring theme of Allardyce's teams down the years. So much so that when his stupendous aerial missile prefaced Rodrigo volleying the opener in Leeds's 3-1 defeat at West Ham last Sunday it was possible to believe this was a reincarnation of Allardyce's European qualifying class of 2004-05 at Bolton.
Yet as he leads Leeds into the final game of the season acutely conscious that even victory against Tottenham at Elland Road may well be insufficient to avert relegation, it is painfully clear that he lacks the time necessary to improve McKennie's tackling and passing to the point where they rival those throws.
No wonder that the 68-year-old would rank saving Leeds as the greatest escape of a career so often spent masterminding successful skirmishes against relegations. "It would be up there with best of the lot," he says.
"I've saved clubs in desperate situations before but we've had more games. It means all those factors we can't control have to be in our favour on Sunday. The pressure is building here but, as I say to every player, pressure is a privilege at this level and one you have to master."
In an attempt to accelerate the latter process Leeds's third manager of the season after Jesse Marsch and Javi Gracia – or fourth if you include Michael Skubala's fleeting incarnation – is flicking every tactical switch and pushing each psychological button within reach.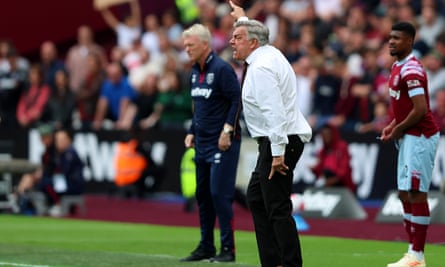 Instead of training at their usual weekday HQ, 20 miles north of Leeds near Wetherby, Allardyce put his players through their paces at Elland Road on Friday in the hope of easing a few nerves on Sunday. In the absence of the countless hours needed to drill the team in the out-of-possession positioning required to prevent Harry Kane scoring, it is the best he can do.
Equally, it was all very well Allardyce persuading the former Leeds luminaries Eddie Gray, Gordon Strachan and Gary McAllister to address his squad but their inspiring words could not repair the injuries the team's two key strikers, Patrick Bamford and Rodrigo, are struggling to shrug off. Rodrigo is the likelier to start against Spurs and Allardyce retains sufficient optimism to fantasise momentarily about reprising his famous on-pitch dance with Jay-Jay Okocha when Bolton beat Middlesbrough to avoid relegation in 2003.
"I fancy Rodrigo is the best dancer here," says Allardyce, who knows a Leeds victory must be allied to Everton and Leicester stumbling. "Let's have a bit of samba, a Big Sam samba. Let's hope we're smiling come Monday. My life's basically about winning and we haven't done enough of it."
Rodrigo's bad foot and Bamford's strained hamstring would not matter quite so much had Leeds not blown a record £35m on signing the inexperienced France Under-21 forward Georginio Rutter from Hoffenheim in January. Victor Orta, the club's former director of football who was sacked along with Gracia at the start of May, identified Rutter as one for the future but what Leeds required was a striker for right now.
Allardyce has dropped ominous hints regarding Rutter's apparent unsuitability for English football and he probably also agrees that Orta's slavish subscription to pressing – the high-energy footballing variety rather than ironing – was unwise. That obsession led Leeds to hire Marsch as Marcelo Bielsa's left-field replacement.
Both men worshipped at the high-pressing altar but, quite apart from Marsch being nowhere near Bielsa's calibre as a coach, that high-risk strategy already seemed to have all but burned out key players, most notably Bamford and the goalkeeper, Illan Meslier.
When the more pragmatic Gracia took over in February Leeds looked a team of out-of-control tactical anarchists who might arguably have done better configured in a 3-4-3 formation reliant on a contain and counterattacking strategy. That system could yet become their default mode next season should Allardyce remain in post.
Significantly, he is not ruling it out, revealing that, whatever happens, discussions will open on Monday. By then he hopes, against hope, to be nursing a survival hangover while sending Okocha a video of a history reprising Big Sam samba.
#Allardyce #hopes #Big #Sam #samba #Leeds #lastchance #saloon #Leeds #United