Senior form analyst Jamie Lynch analyses the 11 stars set to battle it out in the French Derby at Chantilly, live on Sky Sports Racing on Sunday at 3.05pm.
This Qatar Prix du Jockey Club (Sunday, 3.05pm) has the makings of the best Classic of the year, over and above the Derby at Epsom.
It says something that the Poule d'Essai de Poulains winner, Marhaba Ya Sanafi, isn't in the top three in the betting, but it's true that there are even brighter lights amongst the home contingent, with Big Rock sweeping all before him so far this year, while the unbeaten pair of Feed The Flame and Ace Impact are in the 'could be anything' category, especially the former.
Add in contenders from the stables of Aidan O'Brien and John and Thady Gosden, and it's clear that this could be a vintage French Derby, live on Sky Sports Racing.
Let's look in depth at each of the runners…
1) FLIGHT LEADER
Jockey: Bauyrzhan Murzabayev; Trainer: Andre Fabre
The two "F's" of Frankel and Fabre are routine recommendations for Flight Leader, and it could be taken as a positive that the trainer is pressing on with the plan of the Prix du Jockey Club despite the trial, when he was steamrollered by Big Rock in the Prix de Guiche.
He has been all or nothing so far, with two wins and two lasts on his CV, though even the successes are well short of what's required for a race like this, and it would be a surprise to say the least if Flight Leader gave Fabre a fifth French Derby.
2) MARHABA YA SANAFI
Mickael Barzalona; Andreas Schutz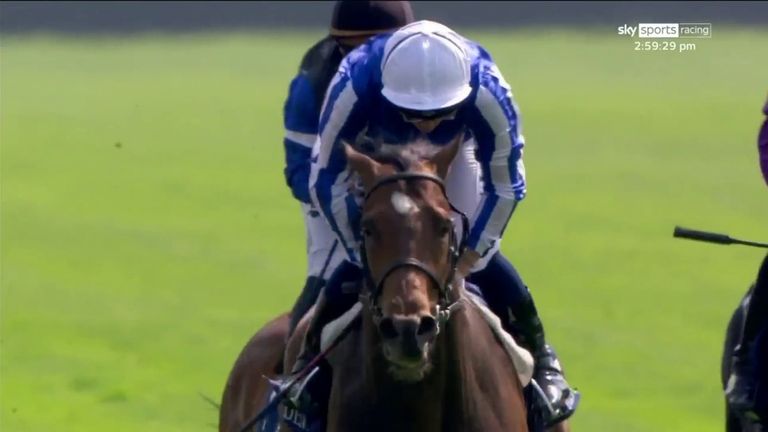 Only the gifted few, including At The Races' French racing expert Laurent Barbarin and his crystal ball, could have predicted the win in the French Guineas for Marhaba Ya Sanafi at odds of 33/1, but there was no fluke about it, even if the race was diluted to some degree by the flop of the favourite, American Flag, who had toyed with the winner the time before.
Rewind a month and you'd have bet your bottom dollar that Marhaba Ya Sanafi would have done better in the Prix du Jockey Club than the Poulains given his strong-galloping style.
That may still be true, in which case his price of around 8/1 seems generous for a horse with one Classic already in the bag, but there's a feeling that this race will take a lot more winning given the would-be stars on show, plus the firmer conditions may compromise him, as he has a pounding action and hits the ground hard.
3) RAJAPOUR
Ioritz Mendizabal; Jean-Claude Rouget
It wasn't so long ago that Rajapour was the ante-post favourite for the Prix du Jockey Club, after an undefeated two-year-old season which promised so much but, while the bubble hasn't exactly burst, it has been deflated by his trials and tribulations this spring.
His comeback was perfectly satisfactory, in the Prix de Fontainebleau at ParisLongchamp, when third to American Flag, and just a short-neck behind Marhaba Ya Sanafi, but he didn't show up at all in the Prix de Guiche, in the jetwash of Big Rock, cutting a sorry figure.
The two slivers of hope for Rajapour are his sire, Almanzor having tackled the same two races (shaped identically in Fontainebleau but won the Guiche) ahead of winning the Prix du Jockey Club, and the different ground, faster than he's faced, at least a reason for a revival.
4) PADISHAKH
Maxime Guyon; Jean-Claude Rouget
In Big Rock's formidable four-race sequence, the horse who has run him closest is Padishakh, even then a respectful two-and-a-half lengths away in the Prix La Force at ParisLongchamp, though that was his reappearance, and he did nose ahead briefly two-furlong out before he flattened out as if he'd come on for the run. Only he didn't.
In the Prix de Guiche, sent off 7/2 second-favourite, Padishakh was beaten much further by Big Rock, presumably blunted by the softer ground at Chantilly, easy to hand him a pass for that and focus on his prior progress, meaning 25/1 might be a big price, but it's worth noting that Cristian Demuro now abandons him in favour of Ace Impact.
5) FEED THE FLAME
Christophe Soumillon; Pascal Bary
Speed, style, and substance: those are the reasons why supplementing Feed The Flame into the Prix du Jockey Club for €72,000 was more an obligation than an option for Pascal Bary and the owner.
Speed: The Prix de Ferrieres in April was the longest race on the ParisLongchamp card, yet Feed The Flame posted the fastest last 400m of any winner, including Sauterne in the seven-furlong Listed race, and she subsequently finished third in the French 1000 Guineas. A final section of 11.6 seconds, and a blistering penultimate one of 10.93 seconds, on officially soft ground, is the hallmark of a Group One horse in the making.
Style: In clocking 22.53 seconds for the final 400m, he barely came off the bridle as he swept through from last to first, under Christophe Soumillon, whose feedback must be a contributory factor in the decision to pay the punchy supplementary fee.
Substance: Amongst those he embarrassed with his fast-forward move at Longchamp were the odds-on favourite (and much hyped) Silver Crack, while the fourth-placed Double Major came out and won a Class One at Angers on Tuesday, but, most meaningfully of all, the runner-up First Minister subsequently landed the Group Three Prix Hocquart.
And the necessary context for the plethora of positives for Feed The Flame is that he didn't make his debut until April, likewise at Longchamp but on far faster ground, which came equally easy to him (won by five-and-a-half lengths), very much his father's son, looking almost a carbon-copy of Kingman in his two races so far, but able to do it at one-and-a-quarter miles.
The Prix du Jockey Club will tell us more of what he's made of but, right now, he's about as exciting a prospect as there is in Europe.
6) ACE IMPACT
Cristian Demuro; Jean-Claude Rouget
The older stars in the stable – like Vadeni, Erevann and Al Hakeem – may be stuttering at the start of the season, but Jean-Claude Rouget's three-year-olds are largely developing as they normally do, on schedule and on springs, Ace Impact a classic example of a Rouget roller.
Not rushed (unraced as a two-year-old), from a standing start in January, Ace Impact has improved in leaps and bounds and won all three of his races, low-key to begin with – at Cagnes-Sur-Mer and Bordeaux – but of greater significance last time for both the race he won and the way he won it, that being the Listed Prix de Suresnes at Chantilly, the stepping stone for Sottsass and Al Hakeem in recent years, the former going on to win the Prix du Jockey Club (and later the Arc) and the latter doing very well for fourth behind Vadeni from a difficult draw/position.
A one-and-three-quarter lengths success in the Suresnes isn't near the level of Big Rock nor several others in this field, but the margin masqueraded his true talent, briefly boxed in before he unleashed a surge that got him out of trouble and to the front in double-quick time, all without the whip, a lot more left by the look of it.
Everything has come easy to him so far, encouraging for him coping in this class, and, because of the noise around the top two in the betting, he's somewhat still under the radar.
7) WINTER PUDDING
Gerald Mosse; Alessandro and Giuseppe Botti
The enemy of my enemy is my friend. As progressive as Winter Pudding has been, it's hard to see him being involved in the finish of the Prix du Jockey Club, but it's easy to see him playing a pivotal part in the race.
He's a friend to most because he might be a front-running enemy to Big Rock, as those are the tactics that have served him well at Listed level this season, and the fact his win last time at ParisLongchamp was over a-mile-and-a-half means a positive ride will be needed for him to have any chance, down in trip and up in class.
He's the one the rest will be pinning their hopes on to ensure Big Rock doesn't have it all his own way up front.
8) AMERICAN FLAG
Stephane Pasquier; Yann Barberot
From flying high above the Parisienne skyline and above his contemporaries, the American Flag was unceremoniously lowered in the Poulains, for which he was the odds-on favourite, at no stage looking the same horse who had laughed at the eventual winner Marhaba Ya Sanafi in the Prix de Fontainebleau.
Was the French Guineas a bump in the road or the end of the road as far as his potential is concerned? His dynamic displays in the spring are still fresh in the mind, but equally it's unfair and unwise to pretend his problematic Poulains performance never happened, while his has new questions to answer here with both the trip and the ground, and Christophe Soumillon has jumped ship to stay aboard Feed The Flame.
9) CONTINUOUS
Ryan Moore; Aidan O'Brien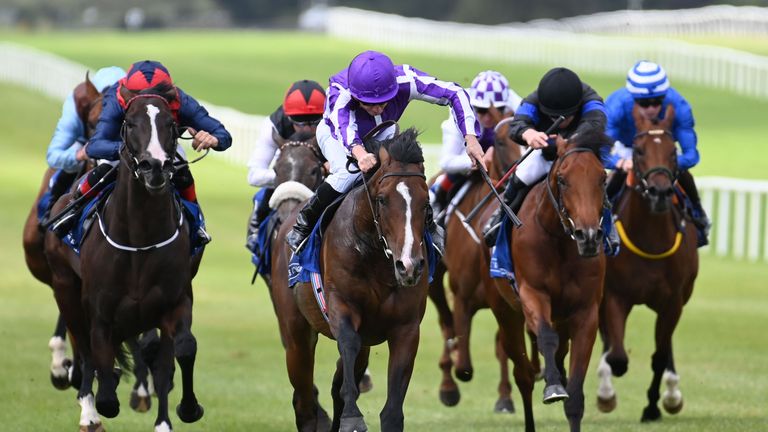 His win in the Prix Thomas Bryon at Saint-Cloud last year was one of the most viewed races in the world, but not for him, as that was the infamous 'elbowgate' race involving Christophe Soumillon and Rossa Ryan; and the theme of being overshadowed and undervalued extended to the Dante when all the attention in the aftermath was on Passenger, rather ignoring a very good comeback by Continuous in joint-third when he was virtually upsides one furlong out and traded 5/4 in-running.
Surprisingly, he never had an entry for the Derby, suggesting the Prix du Jockey Club was always the plan, and here he is, with Ryan Moore up, a draw in stall one and a strong sensation that his best is very much ahead of him. One with his personnel and profile would be nearly favourite for an average Prix du Jockey Club, but this isn't an average Prix du Jockey Club, due to the presence of several shooting stars.
10) EPICTETUS
Frankie Dettori; John and Thady Gosden
He was in the premier league of British-trained juveniles last season, by virtue of his seconds in the Autumn Stakes (to Silver Knott) and Vertem Futurity (three-and-a-half lengths behind Auguste Rodin).
But, he hasn't really kicked on this year, workmanlike in winning a weak trial at Epsom before having his limitations exposed all the more in the Dante, finishing fifth, three-quarters-of-a-length off the reappearing Continuous.
He hasn't the form of some, nor the potential of others, and so it's hard to see success for Frankie in his final Prix du Jockey Club, a race he has won three times, the first some 31 years ago on 35/1 outsider Polytain.
11) BIG ROCK
Aurelien Lemaitre; Christopher Head
Christopher Head thinks French Derby contender Big Rock is still improving ahead of Sunday's big race, live on Sky Sports Racing

Befitting the family name and fame, Christopher Head now has a seat at the top table of French trainers. In the standings so far for 2023, he's twelfth in the list for prize-money, but he has done it with less than half the horses of every trainer above him, and less than a quarter compared to Rouget and Fabre, with a Classic already in the bag courtesy of Blue Rose Cen.
Perhaps his tallest tribute so far is what he has done with the horse who left Mathieu Brasme as a three-race maiden, turning a small pebble into a Big Rock.
He has grown exponentially in power and presence in four unbeaten races for Head, from a handicap and Listed race on the All-Weather to two Group Threes on turf, the latest the Prix de Guiche at Chantilly by five lengths, a wider margin than either Almanzor or Vadeni managed before they won the Prix du Jockey Club.
He made all of the running that day, but it wasn't that he dictated, more that he dominated, as what's interesting is the finishing speed calculation – around 98 per cent – which tells a tale of a strong, sustained gallop by him, which took its toll on his toiling rivals.
That makes him a very difficult horse to combat, even for the better opposition he faces here, and the slightly longer trip of the Prix du Jockey Club won't be any issue: his grandam was a half-sister to dual Derby winner Harzand.
In short, it's hard to find any fault-lines in Big Rock, who has done it on different ground and in different ways (doesn't need to lead), while his power-packed performance in the Prix de Guiche had some star quality about it.
JAMIE LYNCH'S VERDICT:
A fabulous edition of the Prix du Jockey Club, with real star quality. This is the day we find out whether Feed The Flame is all brightness and no heat, because in lesser company so far he has looked an unstoppable force, but he might be up against an immovable object here in BIG ROCK, who has stormed through the spring and put in a mighty performance in the Prix de Guiche when last seen, a reproduction of which will make him very hard to pass.
Watch the Qatar Prix du Jockey Club from Chantilly live on Sky Sports Racing (Sky 415 | Virgin 519) on Sunday June 4 at 3.05pm.
#Prix #Jockey #Club #live #Sky #Sports #Racing #Jamie #Lynchs #runner #guide #verdict #French #Derby #thriller #Racing #News