Manchester City are Premier League champions after Arsenal lost 1-0 to Nottingham Forest on Saturday. Here is how their dramatic, nine-month title race with Arsenal unfolded.
3 September: Aston Villa 1-1 Manchester City
Erling Haaland scores his 10th league goal of the season in City's sixth game, but Villa hit back to claim a point through Leon Bailey.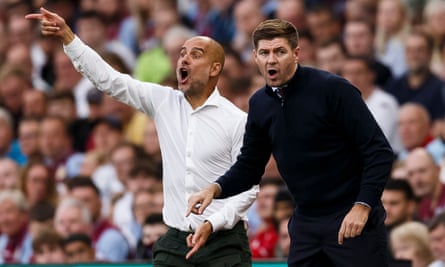 4 September: Manchester United 3-1 Arsenal
The following day, Arsenal fail to open a lead at the top as they lose 3-1 at Old Trafford, but are already emerging as serious title contenders.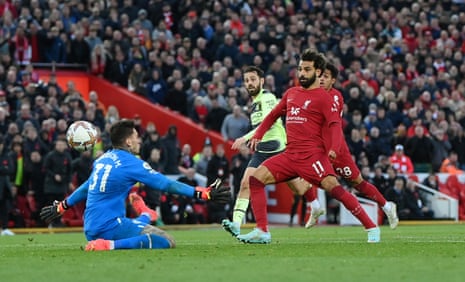 16 October: Liverpool 1-0 Manchester City
Arsenal bounce back to win their next four games, putting pressure on City to get a result against old rivals Liverpool at Anfield. Jürgen Klopp's side kick off in the bottom half of the table but find a glimpse of their old form to end the visitors' unbeaten start, Mohamed Salah getting the winner after Phil Foden's goal is disallowed for a foul in the build-up.
Salah streaked through to score the game's only goal, handing City a first defeat of the Premier League season and reminding everybody that this Liverpool team are a long way from being a spent force – Andy Hunter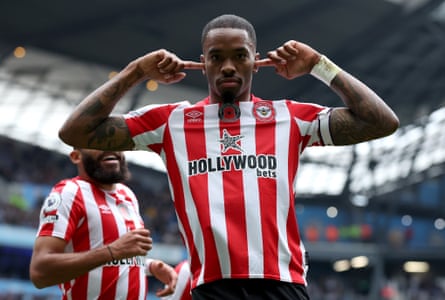 12 November: Man City 1-2 Brentford
In the final round of games before the World Cup break, Ivan Toney's double earns Brentford a shock win at the Etihad that means Arsenal will be top at Christmas. Mikel Arteta's squad watched the match and then ran out 2-0 winners at Molineux, Martin Ødegaard's two goals opening a gap at the top.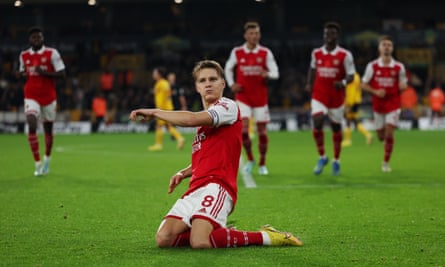 Being top at Christmas is a milestone that Arsenal have not managed since 2007 and, even if they have played only 14 games, it is increasingly difficult to quell the excitement around his vibrant team – Ben Fisher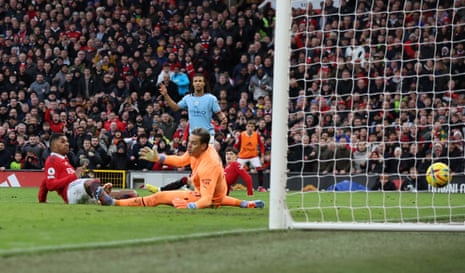 14 January: Man Utd 2-1 Man City
Many expect the leaders to wobble when the league resumes but instead it is City who falter, with derby defeat at Old Trafford compounded by Arsenal's nerveless win at Spurs the next day. Arsenal pull eight points clear and are looking unstoppable.
This is not the City who have been champions in four of the past five years. There is a discordant note to their play that has knocked them crucially off kilter – Jamie Jackson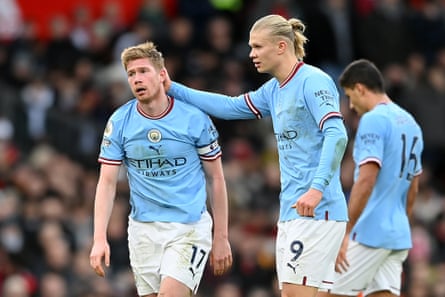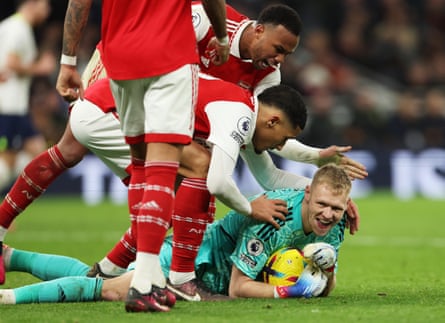 15 January: Tottenham 0-2 Arsenal
Arsenal are eight points clear at the top after 18 matches and a first title since 2004 is theirs to lose – David Hytner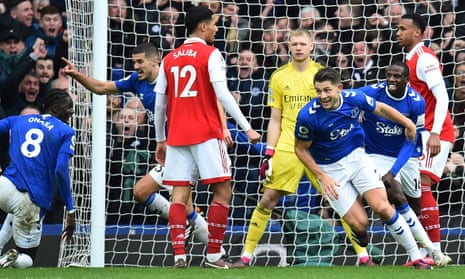 4 February: Everton 1-0 Arsenal
After the two title rivals meet in the FA Cup fourth round (with City winning 1-0), Arsenal's five-month unbeaten run is unexpectedly broken by Everton. City cannot take advantage as they are beaten 1-0 by Spurs on a frustrating afternoon. The following day brings news of a raft of Premier League charges against City for allegedly breaching financial fair play rules.
Arsenal dominated possession but there was a distinct lack of quality or precision with it. Their title challenge needs an instant reaction – Andy Hunter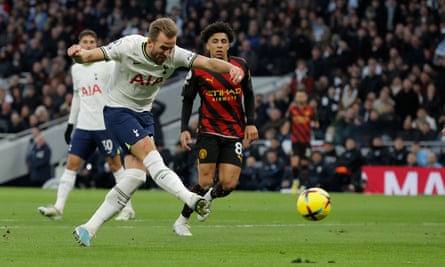 5 February: Tottenham 1-0 Manchester City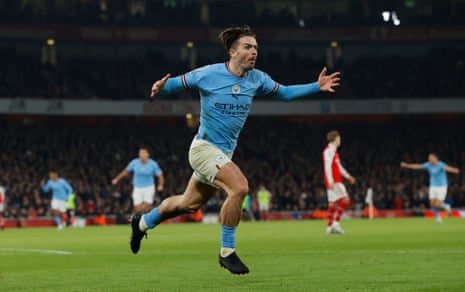 15 February: Arsenal 1-3 Manchester City
The reaction doesn't come, with Arsenal held at home by Brentford before a first league meeting of the season with City, in a fixture pushed back as an indirect result of the death of Queen Elizabeth II. After a hard-fought first half, City take control with goals from Jack Grealish and Erling Haaland, climbing above Arsenal on goal difference.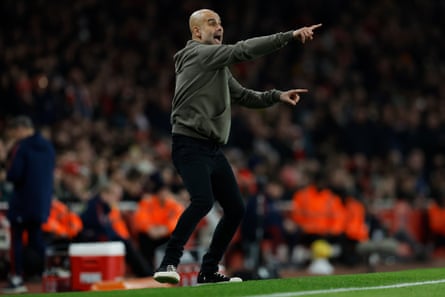 It is strange to think how recently this looked like a long-term pursuit for Pep Guardiola's team. That lead is now eaten away. The skinny-legged figure haring along in the rear-view mirror has become a pounding presence, grasping for the wheel – Barney Ronay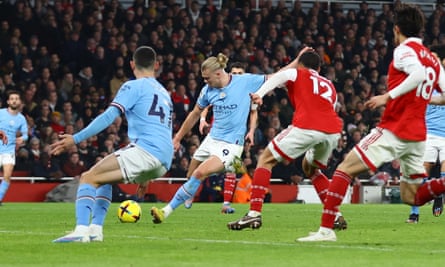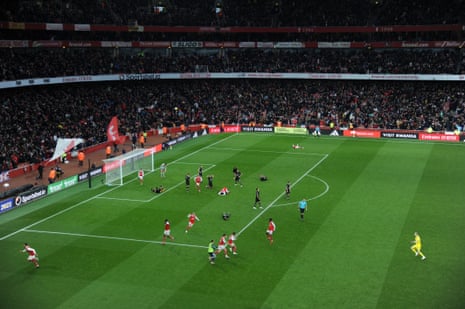 4 March: Man City 2-0 Newcastle, Arsenal 3-2 Bournemouth
Arsenal bounce back in style, winning seven in a row as City drop two points at Nottingham Forest. After the champions grind out a 2-0 win over top-four chasing Newcastle, the pressure gets to Arsenal as they go 2-0 down to Bournemouth – but a dramatic comeback, capped by Reiss Nelson's last-gasp winner, fuels a sense of destiny at the Emirates.
The best title-winning campaigns all contain those flashes in time that set fate's course: as Arsenal's substitutes and coaching staff piled on to the pitch in delirium, the Emirates stands a blur of limbs and faces to an extent rarely seen, it was hard not to feel that Reiss Nelson had conjured one – Nick Ames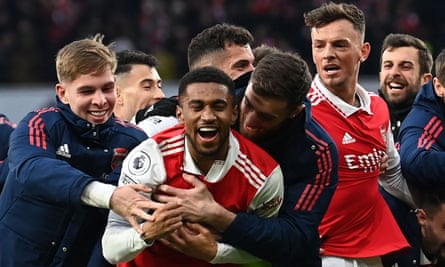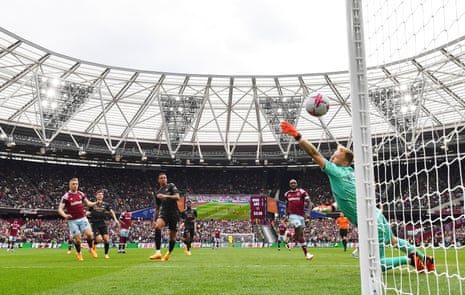 16 April: West Ham 2-2 Arsenal
As City relentlessly pick up results in the league and in Europe, Arsenal try to take the positives from their slip-ups. The Europa League exit to Sporting frees up the fixture list, but William Saliba's injury is a worry. At Anfield, a two-goal lead is surrendered but a late onslaught withstood. Perhaps, all things considered, this was a point gained? The same cannot be said a week later, as Bukayo Saka's missed penalty contributes to another draw.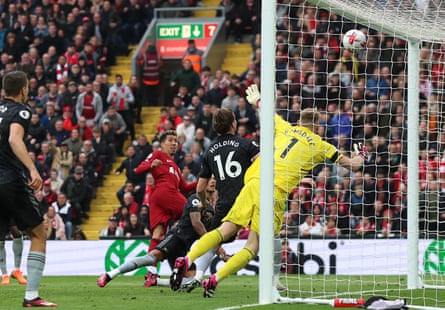 If Arsenal's wait for the Premier League title is to extend beyond the end of the season, this will go down as the day when their challenge faltered. There were not so many 'what ifs?' at Anfield even though they led 2-0. It was an entirely different feeling here. This was a game that Arsenal held in their palms – David Hytner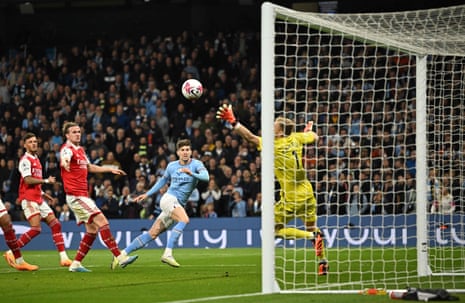 26 April: Manchester City 4-1 Arsenal
City head into the game at the Etihad on a six-game winning run, while Arsenal scramble a point in a chaotic 3-3 draw at home to lowly Southampton. That result means Arsenal need to win at the Etihad to keep the title's destiny in their hands. It never looks likely from the moment Kevin De Bruyne sweeps home with just seven minutes gone. Arsenal are still top, but City's games in hand add to the sense that the pendulum has swung their way.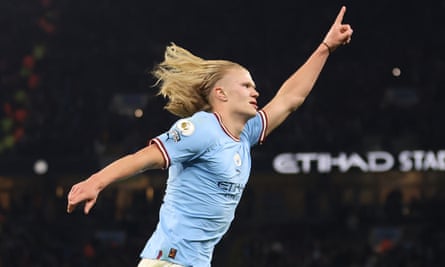 When did it become not just clear but utterly unavoidable that Manchester City were winning this game? Perhaps in the first few seconds, when the air was sucked out through the stadium roof and Arsenal were already panting, whirling, trying to find a foothold – Barney Ronay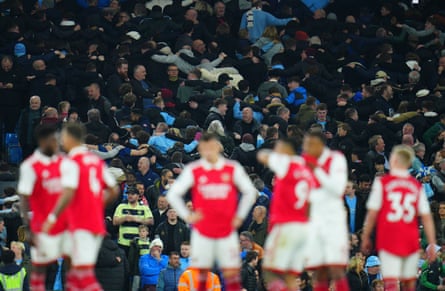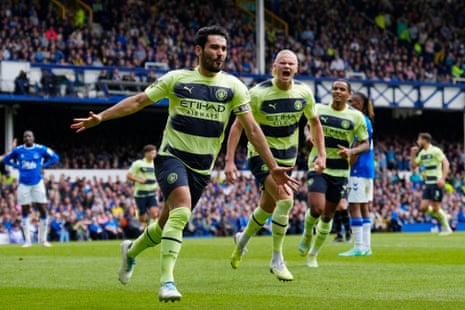 14 May: Everton 0-3 Man City, Arsenal 0-3 Brighton
As Pep Guardiola's side chalked off wins over Fulham, West Ham and Leeds, Arsenal held on. They emerged from St James' Park with a deserved victory, and Everton's 5-1 win at Brighton offered an intriguing twist before the next round of fixtures. City's two-goal opening salvo killed the game at Goodison, piling pressure on to their challengers. Arsenal finally gave in, the team surrendering and fans pouring out of the Emirates in a 3-0 defeat that left City one win from the title.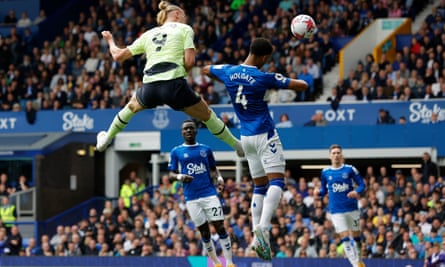 Arsenal have given it a heck of a roll – many people did not think they would even finish in the top four. But needing victory to keep alive their title hopes, they were brought to their knees by Brighton – David Hytner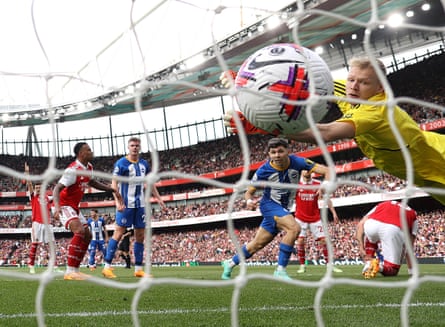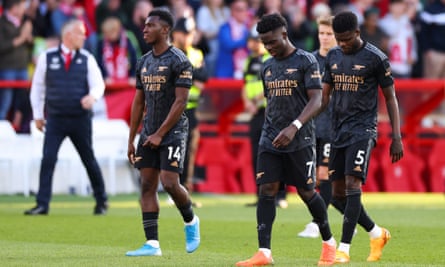 Photographs: Oli Scarff/AFP/Getty Images; Nick Potts/PA; Daniel Chesterton/Offside/Getty Images; Dave Thompson/AP; Laurence Griffiths/Getty Images; Alex Livesey/Getty Images; Matthew Ashton/AMA/Getty Images; Phil Noble/Reuters; Michael Regan/Getty Images; Catherine Ivill/Getty Images; Peter Powell/EPA; Tom Jenkins/The Guardian; Matthew Childs/Action Images/Reuters; Stuart MacFarlane/Arsenal FC/Getty Images; Glyn Kirk/AFP/Getty Images; Justin Setterfield/Getty Images; Simon Stacpoole/Offside/Getty Images; Javier García/Shutterstock; Jon Super/AP; Julian Finney/Getty Images.
#Ten #titlerace #turning #points #Manchester #City #overtook #Arsenal #Manchester #City