Key events
GOAL! Newcastle 1-0 Brighton (Undav, 22)
Trippier's corner is headed into his own net by Undav.
22 mins: It is all Newcastle still but they have not found that perfect chance yet despite their dominance. The only Brighton players to touch the ball are the goalkeeper and centre-backs.
Joelinton slips into space inside the box and spins to shoot but Dunk is there to block the goalbound shot.
20 mins: Schar has been given a bloody nose and is off while someone sticks a bit of tissue up there to solve the problem.
Trippier whips in a corner from the left which Steele flaps at with such incompetence that he misses the ball and earns a goal-kick.
18 mins: Caicedo commits a foul throw. That should drop his value by about £20m.
16 mins: Brighton love playing with fire. Steele just about gets away with a Cruyff turn inside his own box with Almiron putting him under pressure.
Down the other end … Welbeck takes aim from 25 yards but it does not trouble Pope.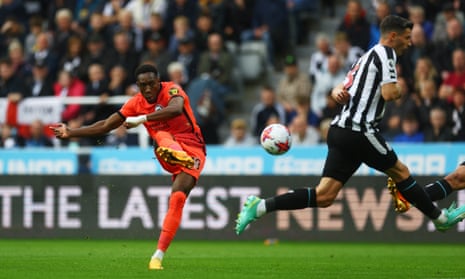 14 mins: Estupinan loses the ball on the left, allowing Almiron to pick it up and attack down the left. The Paraguayan cuts in and plays a one-two with Wilson before wafting a tired shot wide.
12 mins: "I don't want to draw attention away from Tyneside," says Bill Preston, "but there's going to be an absolute corker of a game in fewer than twenty (count 'em) minutes as Sheffield Wednesday get a colossal stomp at home on to overturn a four (count 'em) goal deficit against Peterborough and progress to the League One play off finals after a season of thrilling heroics and run on sentences. Have a great one!"
It would be one of the great turnarounds …
10 mins: Schar whacks a free-kick from 30 yards but it is straight at Steele. It is all Newcastle here.
Speaking of which … Almiron gets to the byline and pings a pull-back to Willock but he cannot control his shot and it flashes wide.
8 mins: Brighton pass it around the back for a few seconds and then Dunk to whacks it straight up the pitch to no man. It leads to a Newcastle attack with Isak getting down the left, he crosses the ball into the six-yard box and hits Steele in the legs. The danger is not cleared because the ball ricochets off a defender and needs to be cleared off the line.
6 mins: A first sight of goal for Newcastle and Isak. The Swede cuts in from the left and rattles off a shot but it flies well wide of the goal.
There is another chance soon after when the ball lands at Almiron's feet in the box but it is well blocked by Van Hecke.
4 mins: All pretty quiet – on the pitch and in the stands – in the opening stages.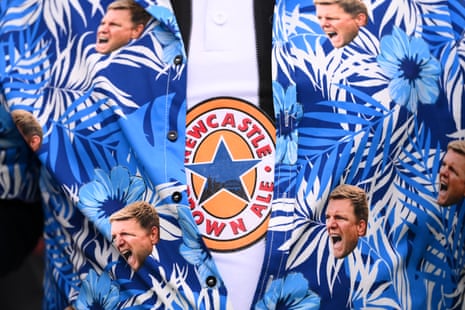 2 mins: Caicedo is starting at right-back for Brighton once more. Gross is in midfield.
Undav tries a shot from about 25 yards but it is blocked.
Peep! Peep! Peep! Here we go!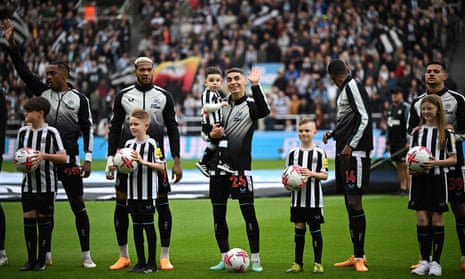 Chris Paraskevas is eager: "G'Day Will! It's a 04:30 local kick-off here. I've just ducked outside for a quick pre-game durry, only to find the resident neighbourhood cat staring into my soul – can't be a good sign. Gone are the days when Brighton were just a throaway line in an overly-dramatized movie about Brian Clough's life. I genuinely fear they're about to do a number on us. Better get back to my coffee…the cat is at the door waiting for its daily milk hit. HTL!"
You will learn nothing here.
Peter Oh is all about pedigree: "Brighton defender Jan Paul van Hecke is the nephew of former Dutch international and erstwhile Southampton manager Jan Poortvliet, who started for the Netherlands in that epic World Cup Final in 1978 against Argentina. Pedigree!"
Will Brighton lose Caicedo and Mac Allister this summer? Almost certainly but they will get a load of cash for them.
Eddie Howe: "I feel the players have prepared well, they are in a good place, they know what they need to do. It is up to us to deliver.
"We believe in the players and how we play. With the spirit of the crowd, hopefully we can play well."
Premier League on a Thursday night is discombobulating. I struggle to know which night of the week it is regardless and this is not helping.
Brighton have a very jazzy kit colour.
Former Middlesbrough goalkeeper Jason Steele starts for Brighton. He will be aiming to help cause an upset. He has been incredibly impressive since taking over as No 1 from Robert Sanchez after waiting a long time for his chance.
Welcome to all our readers in Paraguay where this game is massive. Admittedly, Enciso is on the bench.
Get in the mood for the match with some pure Gazza.
Newcastle have named teenage midfielder Lewis Miley on the bench after withdrawing him from England's squad for the Under-17 European Championships.
Newcastle: Pope; Trippier, Schar, Botman, Burn; Guimaraes, Willock, Joelinton; Almiron, Wilson, Isak
Subs: Dubravka, Dummett, Gordon, Saint-Maximin, Lewis, Targett, Manquillo, Anderson, Miley
Brighton: Steele; Gross, Dunk, Van Hecke, Estupinan; Caicedo, Gilmour; Mitoma, Undav, Buonanotte; Welbeck
Subs: McGill, Mac Allister, Enciso, Ayari, Ferguson, Offiah, Moran, Peupion, Samuels
We are 10 days away from the end of the Premier League season and Brighton have four games to play. They continue their quest for Europe tonight at Newcastle, who have more than a little interest in playing continental football next season.
A win tonight for Eddie Howe's men would put a Champions League spot within touching distance. Newcastle have enjoyed a fantastic season and it would be a fine ending to win at St James' Park tonight and against Leicester on Monday to seal their return to Europe's top table.
Robert De Zerbi will not make things easy for them and come into this off the back of all-but-ending Arsenal's title hopes at the weekend. That victory at the Emirates should see the title race over by Sunday night, meaning City could be a more agreeable proposition next Thursday at the Amex, giving Brighton great hope of securing sixth.
Anyway … let's hope for a cracker from two in-form teams.
Kick-off: 7.30pm BST

#Newcastle #Brighton #Premier #League #live #Premier #League