Key events
11 min: Batlle makes a great run to set up another attack and Parris does well again to turn to keep it in field. Zelem is urged to shoot from far out but United opt for a patient build-up.
10 min: Parris doing well to close down Hasegawa, she is everywhere for United right now! A great stat provided by Sky, when United score first this season they have only not won once – the reverse fixture of this derby which was a draw. Hemp draws a foul and City have a free kick miles away from goal. Greenwood takes it but it can't find Shaw and Earps collects.
8 min: United have the first corner of the match as City look scrambled! Zelem will take it and it's over the bar. I'm still reeling from the screamer goal!
6 min: What a performance Parris is having in front of Wiegman, backing up her great effort in the FA Cup final last weekend. Batlle finds Parris on the edge of the box, she fires the ball in and it goes just ahead of Galton.
4 min: Jeez, Roebuck is forced into a save as Parris almost doubles their lead in as many minutes! Wow United are up for this!
4 min: I am honestly stunned, that is one of the best goals I've seen in a long time. The build-up, the great Parris play, the fast passes to Ladd who whips it. And here they come again.
GOAL! Manchester United 1-0 Manchester City (Ladd, 2′)
I'm stunner, a screamer!! Parris has done expertly well to steal the ball there, wow! She makes a storming run to the edge of the box. It eventually comes to Ladd who slams it home. WOW!
2 min: Man City try and set up an early attack but Kelly is ruled offside. City have had the lionshare of possession so far.
Kick-off! Manchester United 0-0 Manchester City
Here we go! The derby is underway, a potential decider of this WSL season. Can United beat City for the first time ever to make sure they keep themselves in the title race? Or will City boost their Champions League hopes?
Leigh Sports Village is thought to have sold-out for this Manchester derby! United will have them on their side and the roar is loud as they walk out onto the pitch.
Manchester City manager Gareth Taylor is also fully focused on getting the most out of the derby: "We want to be in the Champions League. I am here to deliver the best," the boss said. "We know we need the three points and that's what we'll do. It's about using what the game brings. There's no need to instigate fire in their bellies in this one. That comes naturally."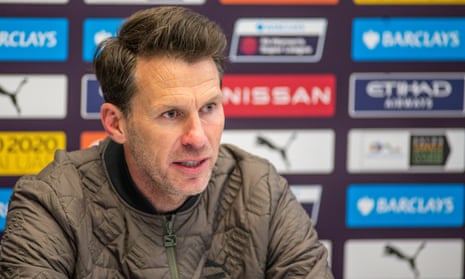 Marc Skinner is having a nice chat with Sarina Wiegman ahead of kick-off!
Manchester United boss Marc Skinner is backing his side to get the full three points: "I feel that Manchester City, look, they're tough. Anyone in that bracket can hurt any team within that top part of the table. So I feel that we've got to be at our very best. But we believe in ourselves. We believe that we can beat Manchester City. But I'll be very clear, we have no right to do that."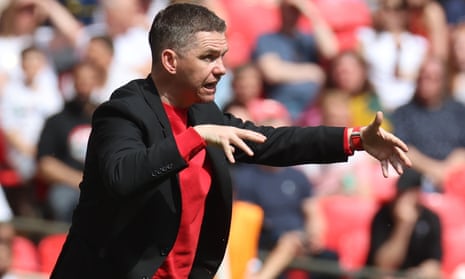 A fun fact for you before we dive into what the managers have said ahead of the Manchester derby. Chelsea set a new record for the most consecutive home wins in WSL history today with the victory over Arsenal being their 15th. They are also the only team to ever win all their home matches in a season and have done so for a second time, also achieving the feat last campaign.
Chelsea manager Emma Hayes believes the WSL race will come down to the wire. She said after the Arsenal match: "What you start thinking about is 'it's not far until the end'. There was no thought in my mind other than 'another one to go'. Things might change depending on what happens later [if United fail to beat City] but I expect it to go to the last day."
Will Unwin is at the stadium for us this evening and has sent over a taster of what it is like to be at Leigh Sports Village: "It is a beautiful day in Leigh for a sold-out Manchester derby. The pub on the corner of the ground is packed with drinkers in red or blue. There is the faintest of hope that United can still win the derby, something City will be desperate to end and bolster their own Champions League ambitions the process." He has also raised a good point, City have only named five substitutes on their matchday line-up but I cannot see an explanation as to why anywhere. If anyone has the answer email me or tweet!
Catch up with all the action from Chelsea's win, including a missed Arsenal penalty, here:
Here's what the WSL table looks like ahead of this clash:
I went for a walk on my break just now on this sunny Sunday and thought I'd pop in a shop for some ice cream for this match. I went to get some Ben and Jerry's cookie dough but it was £6.70! I put it firmly back in the freezer and continued my walk. Crazy price! Let me know what you are up to or your score prediction for this one via Twitter or email.
The relegation battle will come down to the final day as Leicester City failed to wrap up their survival. A win over West Ham would have sealed their top flight spot but they suffered a 2-1 defeat. They will now have to hope they beat Brighton and Reading lose to Chelsea next weekend.
Elsewhere in the WSL, Liverpool and Aston Villa drew 3-3 earlier today and Rachel Daly scored once again for her club. That puts her three goals clear in the Golden Boot race with Man City's Bunny Shaw hot on her tail.
The team news is here! Manchester United have named an unchanged starting line-up from their Women's FA Cup loss to Chelsea last weekend.
United: Earps, Batlle, Blundell, Toone, Zelem, Galton, Ladd, Le Tissier, Turner, Parris, Russo
Manchester City, meanwhile, have made one change from their starting line-up who lost to Liverpool last time out. Ouahabi comes in for Casparji.
City: Roebuck, Morgan, Houghton (C), Greenwood, Ouahabi, Hasegawa, Angeldahl, Coombs, Kelly, Hemp, Shaw
Hello and welcome to one of the biggest Women's Super League matches this season. Manchester United host Manchester City in the must-win game for Marc Skinner's side if they want to remain in the title race. Anything but a win would hand the trophy to Chelsea after Emma Hayes' side beat Arsenal 2-0 earlier today.
The match will be tense with United looking for their first major trophy and City trying to boost their efforts for a top three finish. It will be tricky for both teams with United having the home advantage but City having history on their side. United have never beaten City since they re-formed in 2018.
If United do get the win they will push the title race to the final day where they would need relegation-worry Reading to topple Chelsea. If Chelsea drew and United won, the title would come down to goal difference which Chelsea currently lead by six.
The team news will be announced shortly so stay tuned ahead of kick-off at 6.45pmBST. What a match we are about to be treated to!

#Manchester #United #Manchester #City #Womens #Super #League #live #Womens #Super #League