Of King Henry VIII's six wives, his final marriage to Catherine Parr is perhaps the most ignored. The others are rife with tragedy: there are the two he detested the most that he bent the will of God to legalize divorce; there's Jane Seymour, who died soon after giving birth to an heir; and most notoriously of all, there are the wives he beheaded. But Catherine Parr has been remembered in the history books as the one who simply survived. Karim Aïnouz's English-language debut "Firebrand" reimagines what history hasn't told us about Catherine's oft-forgotten life in a stale period drama that does little to boost intrigue.
READ MORE: 2023 Cannes Film Festival: 21 Must-See Movies To Watch
It's 1543, and with King Henry (Jude Law) away to war in France, he has established his wife Catherine (Alicia Vikander) as regent to hold down the kingdom in his absence. We're told that she's passionate about reform — though the film does little to demonstrate whether she has true power in the political realm — which sews concern and doubt in her male-heavy court. Nevertheless, she's something of a radical, riding out at first light to see her childhood friend Anne Askew (Erin Doherty), whose diatribes about the king's restrictive teachings of faith amount to treason. Catherine seeks a voice in her own right, publishing a popular book of prayers and devoutly working on revisions at night for the subsequent editions.
Catherine's newfound bout of agency is ripped away from her when word gets out that Henry is returning from France early, forcing her to hastily gift Anne with the funds to escape before her husband burns her at the stake. The film livens with Henry's appearance as Jude Law chews at the king's grotesque malevolence. Now a bumbling royal with a defunct leg oozing with yellow pus, it's difficult to see what attracted Catherine to him in the first place beyond wealth and power. As she tells Anne, after all, she optimistically believes God sent her to change his head-chopping ways. But Law exhibits Henry's manipulative tactics to win her over, showering her with gifts and supposed love with a boisterous charisma. 
Triggering the switch, however, turns Henry against Catherine in an instant. As much as Catherine decries that he's never laid a hand on her, Law's performance is as transfixing as it is tactile, his enormous hands covering her face as if to obfuscate her burgeoning selfhood. Hélène Louvart's lush cinematography similarly turns the film's jewel-tone paradise into a claustrophobic hell. In both acts of consummation and abuse, Henry renders Catherine immovable by laying his body on top of hers, captured in stifling close-up as Henry's body fills out most of the frame, leaving a sliver of a corner for Catherine.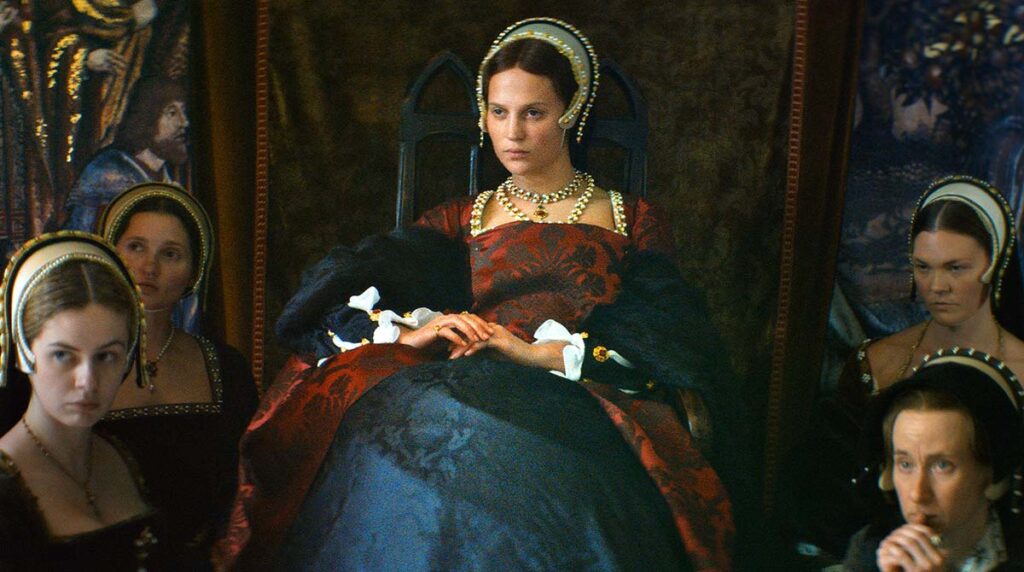 Period-accurate costumes go far also to show the depths of Catherine's gilded captivity. Catherine's go-to accessory of a French hood, complete with a chin strap, functions like a restrictive device, demonstrating that no amount of riches can wrestle her free from Henry's oppressive grasp. Law reigns in "Firebrand," providing Alicia Vikander with less of a rich playground to work with. Nevertheless, the actress is always compelling, maintaining a steely gaze as Catherine's conviction to rectify Henry's terrorizing rule pushes her to fight against him. 
Despite the textured history that Aïnouz has to explore, "Firebrand" trudges on a single wavelength, its tone rarely wavering from the one-note, dour melancholy. It doesn't help that Jessica and Henrietta Ashworth's screenplay is an exposition-laden snooze-fest that is about as fascinating to dissect as a History Channel Henry VIII special. The most egregious error of all is the film's baffling ending, which attempts to dress not only Catherine's reign but also Queen Elizabeth I's in girlboss garb. The Ashworths' script approaches the Tudor era with a feminist lens, seeking to construct the women of the time as "not defined by men or war." It's a frustrating and reductive approach, willfully disregarding that what perhaps makes these royals so interesting is how they navigate an exclusive, patriarchal club that limits women down to their ability to give birth.
There's potential there for Aïnouz to delve into deeper complexities of Catherine's character and how she conflicts with the monarchy. The fact that Henry fears her mind, softly but assertively ordering her to "always hold the line," speaks to the fragility of oppressive society against women just speaking their truths. Glimmers are there, but the film quickly moves on from establishing Catherine's activism to magnifying Henry's worsening condition in his anger and his body. For a movie that seeks to establish the ferocious fire within the great, shunned Catherine Parr, it doesn't take long for the flame to fizzle out. [C]
Follow along with all our coverage from the 2023 Cannes Film Festival.

#Karim #Aïnouzs #Paints #Dull #Version #History #Handsome #Period #Drama #Cannes