Key events
74 min Mahrez escapes down the right and swings over a cross that looks headed for Haaland, but Patterson does well to stay with him and hook away. Then, as the ball drops, Pickford hands-off Haaland in the back of the head and I've not a clue how that's not a penalty.
73 min Akanji advances down the left and thrashes a cross beyond everyone. I'm surprised Guardiola hasn't made changes yet, but I guess he's preserving the players he wants preserved. Still, I can't imagine he wants Rodri and Haaland out there much longer.
71 min There's a lack of finesse and imagination about this Everton side. I'm sure, if they stay up, Dyche will keep them up again next season, but how they get good I've not a clue given FFP, unreliable owners and a new ground being built.
70 min In the afternoon's second game, Arsenal take on Brighton. Follow the buildup here:
69 min What is wrong with people, part 8,000,000,000:
67 min Another good delivery, Mina up ahead of Onana only to half-head into the ground and over.
67 min And this time, Tarkowski connects beautifully, monstering a header against the bar and over!
66 min Mina leaps, hurling himself at nothing in particular but hoping to distract Ederson, who punches away and Everton win another corner.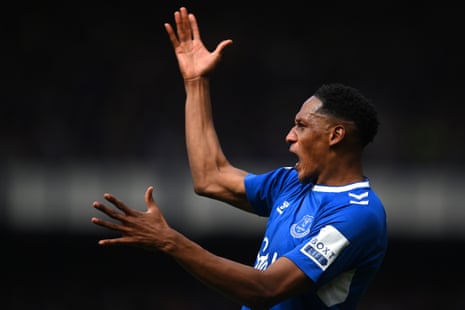 65 min McNeil picks up the ball outside the box and has options, but decides he's best whacking against the nearest defender, earning a corner.
64 min I feel bad, but this photo of Pickford made me laugh.
62 min Everton are getting on the ball now, without intimating any kind of danger.
62 min The women's FA Cup final is goalless at half-time, but from what I've seen it's a very decent game.
60 min Rodri finds Foden, who seems to have recovered, and he clips over an inviting cross for Haaland, who tries a scissors-kick that endangers small animals throughout the L4 area but sends it dribbling wide before a defender clears.
59 min Everton win a corner down the left and Mina wins the first header, but the ball won't drop for Tarkowski or anyone else and Everton clear. VAR then has a look at the situation as Dias seemed to kick the ball against his own arm, before deciding there's no decision to make.
59 min "If Man City are awarded a penalty, I really hope Gundogan takes it," offers Matt Dony, remembering that he missed one for his hat-trick last term when allowed to take it by Haaland – who received a going-over from his manger as a consequence.
58 min I think Everton are playing a back five now, my assumption that Dyche is trying to avoid a hurting.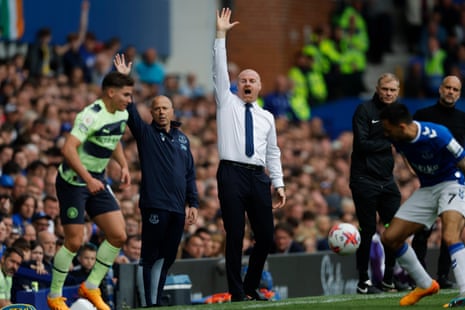 57 min Garner slides a decent ball through to Maupay and for a moment it looks like he's a shooting chance. But City quickly close the door, and Everton have done nowt this half; as I type, McNeil leathers a cross beyond the back post.
55 min Ch ch ch changes for Everton, Coady and Onana replacing Gueye and Holgate. That should sort things.
55 min City are looking for more though, a cross from Gundogan just a little too strong for Haaland.
54 min So, er, yeah: how do Everton avoid a hiding here? I wondered a few weeks ago if survival might come down to whichever of them and Leeds got least battered by City, and though I'd still back them to get more points, they won't want to ship any more.
53 min Gundogan utilised a little more power than this, but they're not dissimilar.
GOAL! Everton 0-3 Manchester City (Gundogan 51)
It's another beauty! Silky Ilkay caresses over the wall with the side of his foot and inside the near post! Think Gary McAllister for Leeds against Wimbledon (I think). What a player!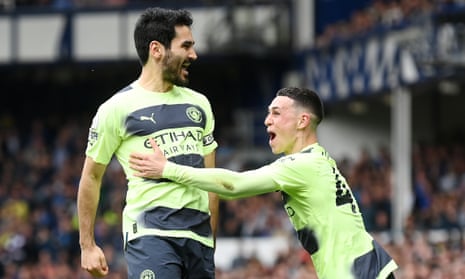 48 min Poor header from Holgate allowing Alvarez spreads to Foden, who skates by Garner only to shoved over while running at full pelt. Garner is booked while Foden stays down – his studs caught in the turf a little, so when he knee moved his foot didn't, and the former is giving his agita. Hr seems OK though, and City have a free-kick 22 yards out, just left of the D.
47 min Everton will also know if they can keep the score at 2-0 for a bit, if they can somehow scrounge a livener, this match isn't over.
46 min Currently, Everton have a goal difference of -23, versus -25 for Leeds. So they need to be careful to avoid a kicking here, because it might cost them more than a bit of minor embarrassment.
46 min We go again…
Half-time change: Dyche sends on Maupay for Calvert-Lewin. I'd be surprised were that tactical, and what a shame it is that he's finding it so hard to stay fit.
Yeah.
Half-time reading:
Half-time: Everton 0-2 Manchester City
Looking at the score doesn't tell you the story of the half but does tell you the story of the teams. Everton are huffing and puffing, while City are purring.
45+1 min Mahrez skirts around the right and drills a low cross that Mina somehow gets rid of from almost on the goalline. That looked a lot like 0-3.
45 min We'll have two added minutes.
45 min Yoane Wissa has made it Brentford 2-0 West Ham.

#Everton #Manchester #City #Premier #League #live #Premier #League