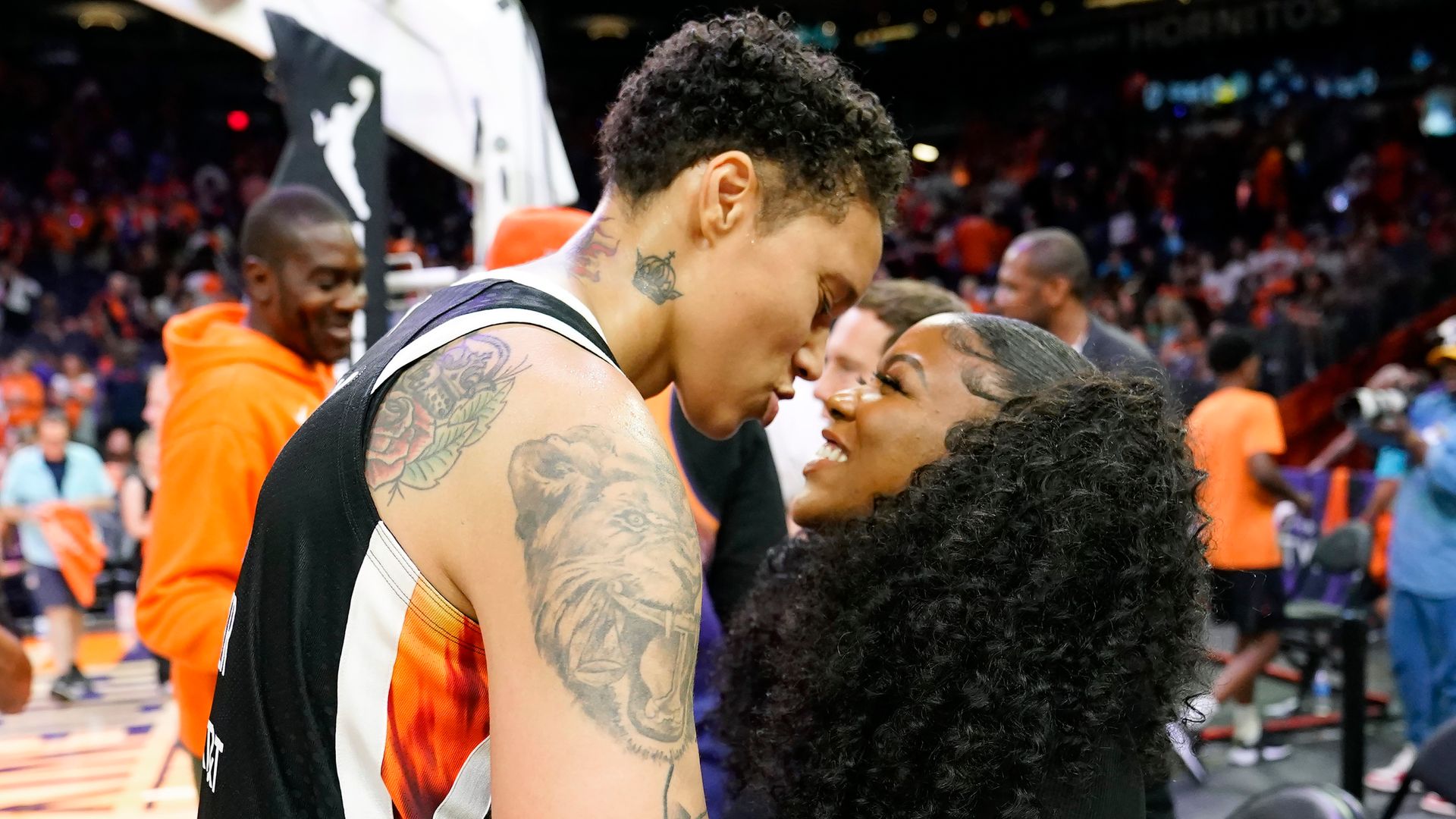 Brittney Griner and wife Cherelle shared a hug and a smile as they embraced at courtside after the final buzzer on Sunday night, defeat to the Chicago Sky doing little to detract from an emotional homecoming for the Phoenix Mercury star.
Griner, who had played in her first competitive WNBA game in 19 months earlier in the weekend, was featuring in front of her home fans for the first time since being released from Russian prison, where she had been held for 10 months on drug charges following her arrest in February 2022.
The 32-year-old was introduced on court to the song 'I'm Coming Home', making for a teary-eyed Griner as she was greeted by team-mates and a Mercury crowd that erupted upon her entrance.
"There may have been a little dust in my eye," said Griner. "It was emotional in the back. Just hearing and seeing some of the clips and then coming out.
"And then she set me up with that song. Oh, my God. But no, it was really good. Part of the process of healing is just kind of letting it out. I got choked up a little bit. Tried to hide it but I see you caught it."
Griner has wasted no time in reminding the WNBA of her talent since returning to action, posting 27 points alongside 10 rebounds and an assist in Mercury's defeat. With four blocks on the night, she also overtook Sylvia Fowles for third on the All-Time Blocks list.
On Saturday she marked her comeback with 18 points, six rebounds and two assists against the Los Angeles Sparks.
"We didn't we didn't finish the job by getting a win tonight, but I'm just continuing to be impressed with BG," said Mercury coach Vanessa Nygaard. "BG is somebody that can handle so many things clearly that many people could not handle."
Roger Carstens, US Special Envoy for Hostage Affairs, admitted he and Texas Congresswoman Sheila Jackson Lee were left in tears at the sight of Griner's return.
"When BG came out, it was a very emotional moment for both of us, where the team sits in Washington, DC, we knew that this day was going to come," he said. "We knew it was going to be hard, what we saw was exactly how I pictured it. BG home. Cherelle (Griner) cheering her on. BG's family in the crowd and BG back on the court doing what she does best, and that's playing basketball."
#Brittney #Griner #emotional #home #return #Phoenix #Mercury #release #Russian #prison #NBA #News